Activities
Sports

We encourage our students to participate in competitive sports as a way to build character, gain self-confidence, and develop teamwork. Our 5th and 6th grades girls and boys compete in a basketball league with other local Christian schools.  We partner with Western Michigan Christian School, our middle school and high school, for sports camps and clinics including softball, volleyball, soccer and cheer. We also offer two running clubs for students in grades 3rd – 5th: Girls on the Run for girls and Total Trek Quest for boys. These clubs not only focus on running, but on healthy choices and building self-esteem as well.
3rd Grade Bucket Brigade

This is an optional lunchtime drumming club for 3rd-grade students at MCS led by teacher Chad Bonnema. Students practice drumming a number of songs and perform at chapel services and WMC Warrior basketball games every year. Students develop their rhythm skills while having a lot of fun!
Class Trips
Our students participate in a number of extended learning opportunities that happen off-campus. These highly anticipated trips allow for highly engaged learning and support the curriculum that students are studying. Students in grades K – 6th participate in various class trips throughout the school year and parents are encouraged to come along.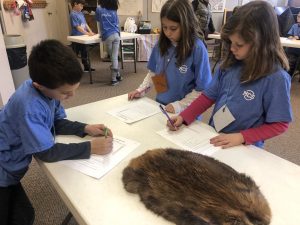 Every year, all of our 3rd-grade students participate in "The Big Lesson" at the Lakeshore Museum Center. The students spend a week at the museum learning about Michigan history and cultural traditions and enjoy getting "hands on" with the curriculum. They end the week with a presentation to family and friends at the museum. 6th grade students enjoy a special overnight camping experience at Camp Pendalouan every year to bond with classmates and explore nature together.
STEM Club