RETURN TO IN-PERSON INSTRUCTION FOR 2020-2021
We are excited to kick off the 2020-2021 school year with in-person instruction and see this as the best option for high-quality elementary education. This comes with the understanding that not everyone is comfortable with this option. For that reason, we are looking at possibilities of offering an online option for families who are not yet ready to have their students return to the in-person classroom environment. We will continue to communicate with families as we explore these opportunities in what we are able to offer.
In the event that Michigan is placed back in Phase 3 of the reopening plan, MCS will delay the start of the school year up to two weeks in order to make adjustments and that time may be added to the end of the school year.
Download the MCS Preparedness and Response Plan PDF for 2020-21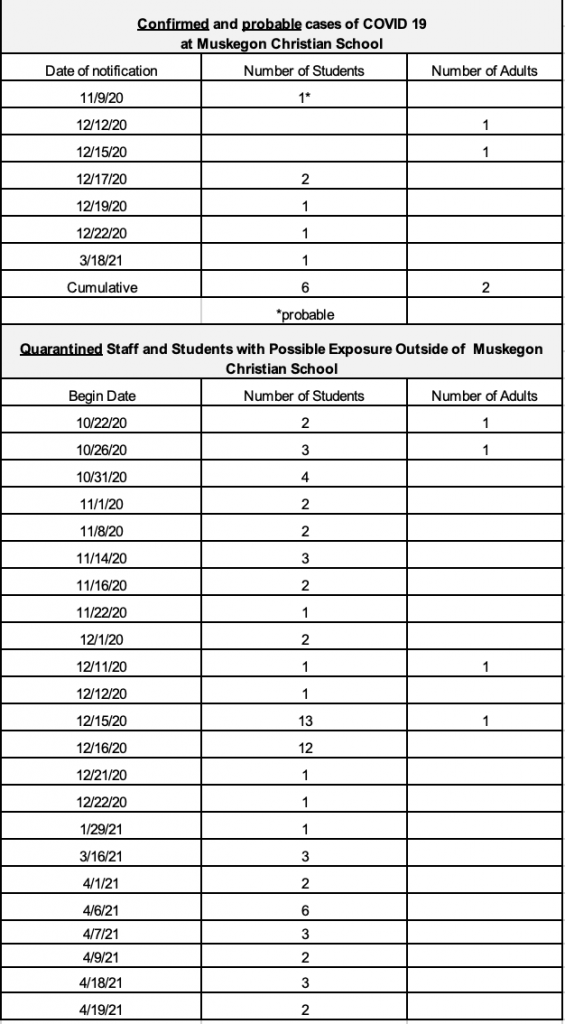 POWERSCHOOL
PowerSchool is a private and secure parents' portal that allows parents to view information specific to their children while protecting their children's information from others.
To access West Michigan Christian Schools' (WMCS) PowerSchool CLICK HERE.
To access SchoolAdmin and your family billing account for Muskegon Christian School CLICK HERE.
Questions? Please call our office at 231-773-3221 or email us.
ENROLL (CURRENT MCS FAMILIES)
All RETURNING, constituent families with students Preschool through 6th grade will have priority enrollment until April 1. After this date, enrollment will be "first come, first serve" until capacity is reached. PLEASE NOTE: $100 Enrollment fee will be assessed to all families who enroll AFTER June 1. Please complete your enrollment before this date. Early enrollment helps us more accurately plan and budget for the coming year. The $100 enrollment fee will be in addition to the $100 deposit, so enroll early and save!
To ensure we have up-to-date, accurate information we would like all families to complete our online enrollment through West Michigan Christian Schools' (WMCS) PowerSchool. After logging on to ParentsWeb, click on "Family Information" on the left side menu bar, and then click on Enrollment/Reenrollment.
If you need assistance with our online enrollment process, call the Muskegon Christian School office at 231-773-3221 or email us.
If you are paying full tuition, you may complete your entire enrollment online. If you qualify for a tuition adjustment, complete the online forms and call the Muskegon Christian School office at 231-773-3221 or email us to schedule your enrollment appointment. Day and evening appointments are available.
TUITION RATES FOR 2020-2021
| Grade | Tuition |
| --- | --- |
| Kindergarten Explorers (Tues & Thurs) | $2,368.00 |
| Kindergarten (5 Days) | $5,920.00 |
| 1st – 3rd Grade | $5,920.00 |
| 4th – 6th Grade | $6,245.00 |
Preschool & Prekindergarten
| Number of Days | Half Day | Full Day |
| --- | --- | --- |
| 2 Days | $1,130.00 | $2,260.00 |
| 3 Days | $1,700.00 | $3,400.00 |
| 4 Days | $2,265.00 | $4,530.00 |
| 5 Days | $2,830.00 | $5,660.00 |
If requesting a tuition adjustment, please bring the following to your appointment:
Copy of current 1040 Tax Form or other evidence of recent income
Driver's License and Proof of Insurance (for volunteer drivers)
Copy of Child's Birth Certificate (Kindergarten only)
$100 Enrollment Deposit (per family)
The State of Michigan requires a Health Appraisal Form and Child Information Record for all students under the age of 6. The Child Information Record is also required for any student attending our surround care program (regardless of age). Completed forms should be on file in the school office by the 1st day of school.
SCRIP (T.R.I.P.) PROGRAM
SCRIP (T.R.I.P.) is a volunteer-run program that helps you pay down your tuition while you shop! There are over 500 local & national retailers that participate. Those retailers sell gift cards to MCS at a reduced rate, we sell them to you, and you redeem them, at full face value. The difference between the MCS purchased price and the face value is then credited to your tuition account.
SCRIP orders may be placed online CLICK HERE, call the Muskegon Christian School office at 231-773-3221 or email us for the school enrollment code.
VOLUNTEER
There are many ways you can volunteer at MCS, including:
PPO Committee
Large-scale mailings
Special events including the Auction and Golf Outing
Friday Prayers and Projects Crew
DIBS! On Resale
All the profits from DIBS! On Resale go to support the 4 WMC Schools- Muskegon Christian, Western Michigan Christian, Grand Haven Christian, and New Era Christian. They would love for you to volunteer! More information is available on the DIBS! Facebook page, their website or by calling (231) 798-2252.
Your service makes a huge difference in our school! All MCS families are asked to volunteer 20 hours of their time (10 hours if they have students at WMC or single parent families) at MCS. Volunteering at DIBS! On Resale qualifies for these hours. Please call the Muskegon Christian School office at 231-773-3221 or email us for more information on volunteering.
CLICK HERE to download the Volunteer Record of Service Hours Sheet.