Early Childhood Programs
Our Early Childhood Programs at MCS provide a warm and loving environment centered on Christ through which a child becomes familiar with a classroom setting and develops an excitement for learning.  We offer an introduction to the Spanish language as part of these programs as well, as research shows that an early introduction to a new language has a positive effect on intellectual growth and gives a better ear for listening. (A full Spanish Immersion Program is offered at MCS Kindergarten – 6th grade). Continue reading for more information about content included and available schedules for Early Childhood Programs.
Preschool
Preschool is designed for three and four-year-olds who are ready for their first experience at school.  Our certified staff provides a learning environment where children will experience free play, circle time, literature, music and movement, and daily development activities in a way that challenges them academically, emotionally, socially and spiritually.
Preschool Objectives
Spiritual Development – We will learn about God's Word and his World through stories, song, and prayer. We want to help each child to grow in their faith and knowledge of God every day!
Learning Through Play – Children are given lots of opportunities to cut, glue, paint, dig, pour, build, climb, pretend, sort, examine, sing, and much, much more!
Academic Learning – We introduce many academic concepts including science, math, and language while developing large and small motor skills.
Preschool Options for 2020-2021:
2, 3, 4 or 5 days for three & four-year-olds
Half day option (8:15 – 12:00)
Full day option (8:15 – 2:50)
Call the Muskegon Christian School office at 231-773-3221 or email us to learn more about Preschool Options!
Pre-Kindergarten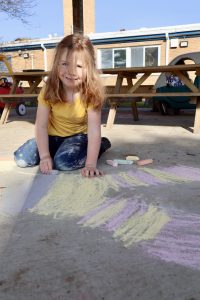 The Pre-Kindergarten program is designed for four and five-year-olds preparing to enter kindergarten the following year.  The focus of this class will be kindergarten readiness.  Students must be 4 years old by September 1 to enroll in a prekindergarten class.
Pre-Kindergarten Objectives 
The program's learning and kindergarten readiness goals will challenge its young learners at a higher developmental level than those in preschool and complement – but not duplicate – either preschool or kindergarten. Along with learning through play, we will focus on objectives such as:
Spiritual Development – Listen to stories from God's Word, memorize some of his words into our hearts, sing praise to Him, and learn about how much He loves us!
Social Development – Learn to cooperate with others, follow directions in a respectful way.
Language and Literacy – Identify letters and sounds of the alphabet, develop cognitive and critical thinking skills through reading aloud and oral language experiences.
Motor skills – Strengthen hands for fine motor development, hold a pencil properly, work on the proper formation of letters and numbers.
Math and Science –

 

Count and identify numbers, identify shapes and patterns, learn calendar information, experience nature, learn about animals, and more!
Outdoor Education
Beginning in the 2021, our pre-K program shifted to a Nature Based Preschool, meaning we will be learning in an outdoor 'classroom' for a majority of the day.  Students will be dressed for the weather; rain, sun, snow, and wind!  Our current outdoor play area is in the process of being transformed into a full outdoor learning environment.  The Preschoolers will be encouraged to discover God's creation and learn through PLAY with the active presence of teachers.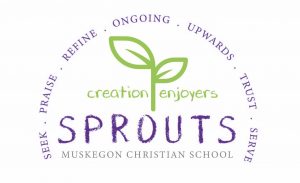 We will begin our day outside and (weather permitting) be outside in learning centers, whole group, and small groups, until lunch time. After lunch we will venture outside again for a hike and review our learning from the morning. Everything we traditionally work on inside will be done outside with a mix of natural and manmade materials. Three afternoons a week will involve a Spanish Immersion experience in the traditional classroom setting.  This allows students and families to experience a taste of what our Spanish Immersion experience will be like in the years to come. 
Studies have shown learning outdoors leads to improved cognitive development, increased concentration, greater attention span, better motor coordination, reduced stress levels, and interest and enjoyment in learning, fitness, and increased ability to connect with others.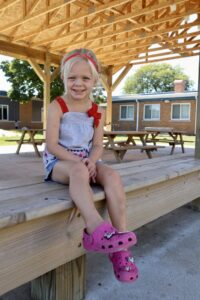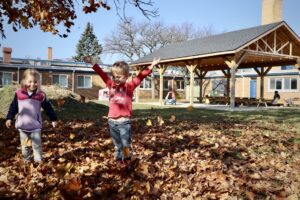 Preschoolers in this class will know first hand the power of God and the world he created for us to love, take care of, and enjoy. What a gift!
Kindergarten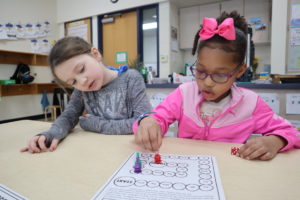 Our Kindergarten and Spanish Immersion Kindergarten programs meet full days Monday through Friday. Students must be 5 years old by September 1st to qualify for Kindergarten. Spanish Immersion students follow the same curriculum standards as their English counterparts. Please see our Spanish Immersion page for more detailed information about our Spanish Immersion programs.
Kindergarten Objectives 
Spiritual Development: We want every child to learn who God is and how much He loves them! We will learn Bible stories, memorize Bible verses, participate in daily devotions and prayer, and participate in our all-school weekly Praise services and Family groups.
Reading Readiness: We'll focus on letter formation and spacing, letter sounds, sounding out words, sight words, literature and language experiences, shared reading, journaling and more.
Math Readiness: Your child will learn patterns, shape and size attributes, position and comparison words, counting forward to 100, counting by 2s, 5s, and 10s, recognizing patterns, time to the hour and ½ hour, money, measuring, graphing, estimation, addition, and subtraction
Social Skills: We will focus on relating in a loving, Christ-like manner and will work to demonstrate politeness, kindness, sharing, acceptance, respect, and responsibility while developing independence.
Extra Curricular: physical education, music, library, field trips, art, school programs, and festivals.
Is Your Child a "Young Five?"  Wondering Which Program is Right for Your Child?
Even though the cut off for Kindergarten is September 1st, we are happy to meet with you to evaluate what options at MCS will be the best fit for your child. Every child is unique! We offer flexible programming to help best fit your child's academic needs and offer 5-day (half or full day) options including surround care.  For more information, please call the Muskegon Christian School office at 231-773-3221 or email us.